Mobile aluminum tig welding
Shop or mobile welding in Toronto Ontario, ship outdrive, Mercury, Evinrude/Johnson outboard leg and OMC lower unit to be tig welded.
We have some stock of steel, aluminum, stainless, specialty steel sheet, plate steel, threaded rod and bolts.
Nation course / fine thread taps or die,s and pipe thread dies.
For welding inquiries, contact Nick Shaganenko.
Miller welder (dynasty series 700 machine) used to tig weld aluminum) outdrives.
Tips for tig Welding aluminum outdrive, outboard leg/head or stern drive gear-case.
V310 T technologically advanced AC/DC tig welder used for shop / mobile welding aluminum or stainless steel: railings and stern drive lower units.
Search by part number or description here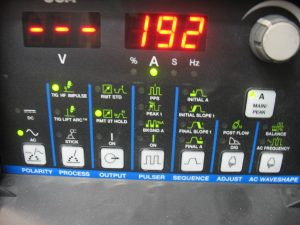 mobile welding AC-DC Miller Dynasty computer
Aluminum boat or trailer repairs on site and mobile
Broken skeg or lower unit aluminum fin can be tig welded
High tech AC miller dynasty 200 series tig welder unit
Outdrive in most cases can be left together with our new high frequency arc, square wave, fast freezing puddle and deep penetration tig welder
Our DC welder has 600 volt 300 amp power supply for stainless steel parts or heavy duty trailer repairs
Upper gearcase tig welding repair do to frozen water or we have new units years 1986 to 1993 OMC stern drive, see our Cobra upper gear housing (new unit)
Stainless steel or aluminum rails and outboard boat parts
Stern drive units Marina docks, lock out gates or fence
Fabricate custom equipment Ornamental railings / gates
Custom steel sail boat stands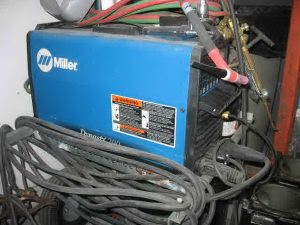 Miller Dynasty 350 aluminum mobile welding machine