T.C. Electronics/Marine

OMC outdrive repair services are often required by customers who do not have their own gas welding and press equipment.
This price includes stern drive ball gear, labor, 680 retaining compound, aviation gasket sealant and 545 thread sealant.

Machine face and clean seal area of bearing retainer
35605 Zinc chromate primer (internal prop area included)

Full epoxy or enamel paint available at additional cost
Vacuum / pressure test
Cobra stern drive repair parts that may be required, prices based on US Funds.
Water pump housing #12405 $23.79
New gears 21/16, 21/17, 21/20 $786.95
Yoke Water pump shaft #28320 $303.95
Yoke drive shaft #28315 $100.79
Bearing Carrier (Pinion) #27800 $77.79
Bearing Carrier (Yoke) #27920 $66.79
Machine Sized Bearings $60.00
Cracked housing Welding $120.00
Machine case small bearing area $140.00 and place insert or spacer as needed and shim race .006 to .010 plastic shim area on retainer would be the same.
Ship to:
T.C.Electronics / Marine
21 Canadian Road Unit 17
Toronto Ontario
Canada M1R 5G2

OMC Cobra stern drive upper gear cases
Place in 16" x 24" x 9" Box 50 to 56 lbs
Pack with solid foam from building center.

Unit can or may be disassembled or one piece. Send u-joint and drive shaft only if we are replacing parts on them as stock core unit being sent out do not have u-joint or drive shafts with them.

Please make sure there is No Oil in Unit and ship UPS, FedEx or USPS ground service.
Please contact UPS, FedEx or USPS for a shipping quote to our warehouse.
Two day delivery is available in most areas.

Please State on UPS way-bill form Value for customs $20.00 boat parts for repair only returning to USA.

Sender will be responsible for charges if this is not stated if brokerage or customs charges and taxes are charged.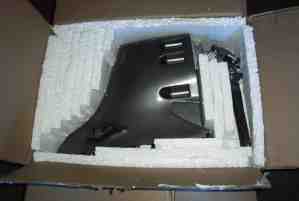 core repair packing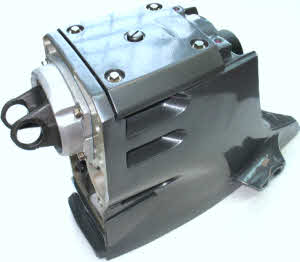 OMC Cobra sterndrive rebuilt 21-16 upper gearcase
222-22

Upper gear case repair cost to replace bearings, seals, o-rings, shims, gaskets, paint, pressure testing and shipping to Continental USA or Canada $596.29 US Funds.

There is a fee for packaging add by PayPal when using shopping cart. Note includes P/N 39630 gasket kit for installing stern drive on boat.
226-20

Upper gear case repair cost to replace gears, centering cone, bearings, seals, o-rings, shims, gaskets, paint, pressure testing and shipping to Continental USA or Canada $1495.29 US Funds.

There is a fee for packaging add by PayPal when using shopping cart. Note includes P/N 39630 gasket kit for installing out-drive on boat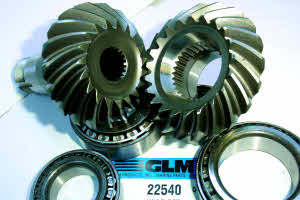 22540 GLM aftermarket OMC Cobra gear set V6 ratio 21-19
# 22540 New Gear Set 21 / 19 and Bearings V6 3.8L or 4.3 L. OEM 984012 $811.99