Water Pump Impeller


Replacement of the impeller is key in keeping the cooling system of the stern drive operating properly.

Since the impeller is made from a rubber compound - it will need to be replaced every few years depending on the number of hours the outdrive is run per year. The impeller installed in the upper gear housing of the drive supplies circulating coolant to the engine and plays a critical part in cooling the engine.

Never run the stern drive without water - even a few seconds of dry use with no water will cause damage or complete failure of the impeller.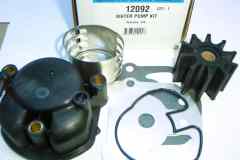 12092 GLM Marine aftermarket OMC Cobra
water pump kit
For the Cobra model (1986-1993), the pump unit is easily accessible and located in the upper gear case.

No special tools are required; however, a gasket sealing compound is needed for the wear plate / pump housing gasket and the pump housing seal.

Circulation Flow (Cobra Model) Cooling water is drawn into the lower unit intake screens on the port side of the outdrive (the intake screen prevents debris from entering the cooling system).

The suction from the impeller pulls the water up through the copper water tube which leads to the upper gear case and pump housing.

The pump impeller (OEM # 777128, GLM # 89950) is mounted on the short shaft (OEM # 984264, GLM # 28320) which is an extension from the u-joint / drive shaft (OEM # 912212, GLM # 28315).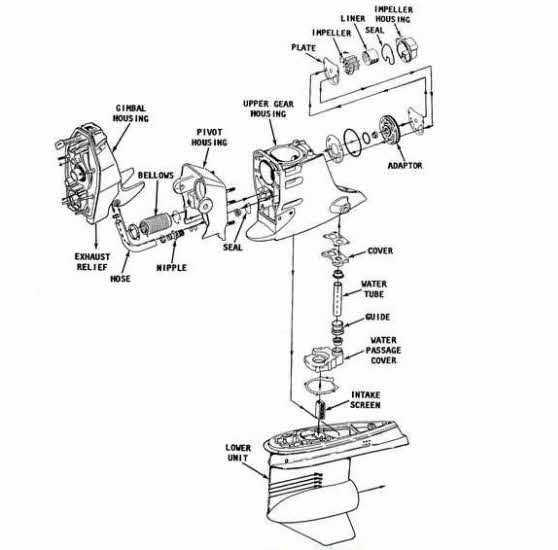 Outdrive flow
Water is drawn into the starboard side of the pump and exhausted under pressure on the port side of the pump housing.

The transom pivot housing contains a hose and nipple which is connected to the upper gear case water passage.

This hose always cooling water to flow through the gimbal housing which proceeds through the thermostat (when open) directly to the engine water pump.

The Stringer outdrive (electric shift 1968-1977) and 800 models (1978-1985) use identical upper gear case assemblies.

The impeller is seated in a 5.5 inch (O.D.) pump housing (OEM # 983298, GLM # 12390); and slides over the water pump shaft (OEM #909753, GLM #22410).

It is held in place using a woodruff key (OEM # 308928). Some special tools are required for installation and removal. Approximate replacement time 1 hour. The Cobra sterndrive (1986-1993) uses a smaller impeller than the older Stringer and 800 models.

The O.D. is 2.5 inches compared to the Stringer's 4.25 inch O.D. It is seated in a pump cup (OEM #911844, GLM # 12391) which sits inside a small pump housing (OEM # 984744, GLM # 12405).

This pump housing is easily accessible via the rear of the upper gear housing by removing the 3 bolts that hold on the cover assembly (OEM # 983967, GLM # 28406). No special tools are required for installation and removal. Approximate replacement time 30 minutes - 1 hour.